Regular price
Sale price
$56.00 USD
Unit price
per
Sale
Sold out
Baked in Colorado CBD beverage enhancers for dogs and CBD dog treats are non GMO, contain zero THC, and are made with organically grown hemp. All of our pet CBD products are made with NANO CBD, which makes the CBD more easily absorbed by your pup, and will work faster than the leading brand. All Baked in Colorado products have been third party lab tested for quality and potency.
The beverage enhancer can be added to your dog's existing food or water as part of a daily routine.  Baked in Colorado beverage enhancers are water soluble, so you won't have to worry about your dog leaving any of it behind!
Made with high quality nano CBD for less waste and faster results
Can help reduce pain and reduce anxiety in dogs
Made from wholesome ingredients and are NON GMO
Available in two dosages – 250mg or 750mg per bottle
Grown in Colorado, and Baked in Colorado!
2oz sealed glass bottle with dropper 
Disclaimer: The safety and risks of using CBD for dogs have not yet been researched. The U.S. Food and Drug Administration has not approved CBD and has not issued a dosing chart. When giving your dog something new, start out with small amounts and then closely monitor the effects. And always check with your veterinarian first.
Share
View full details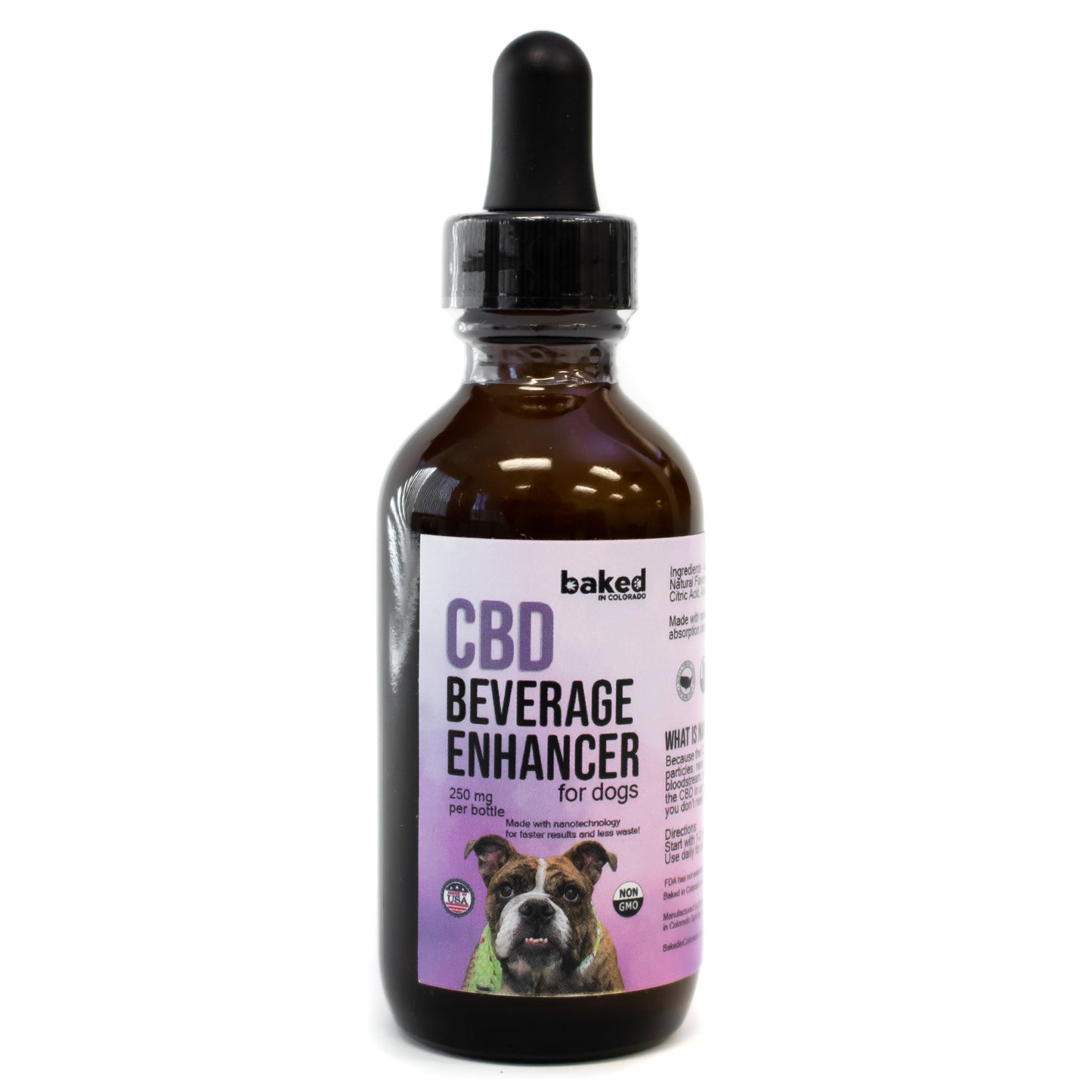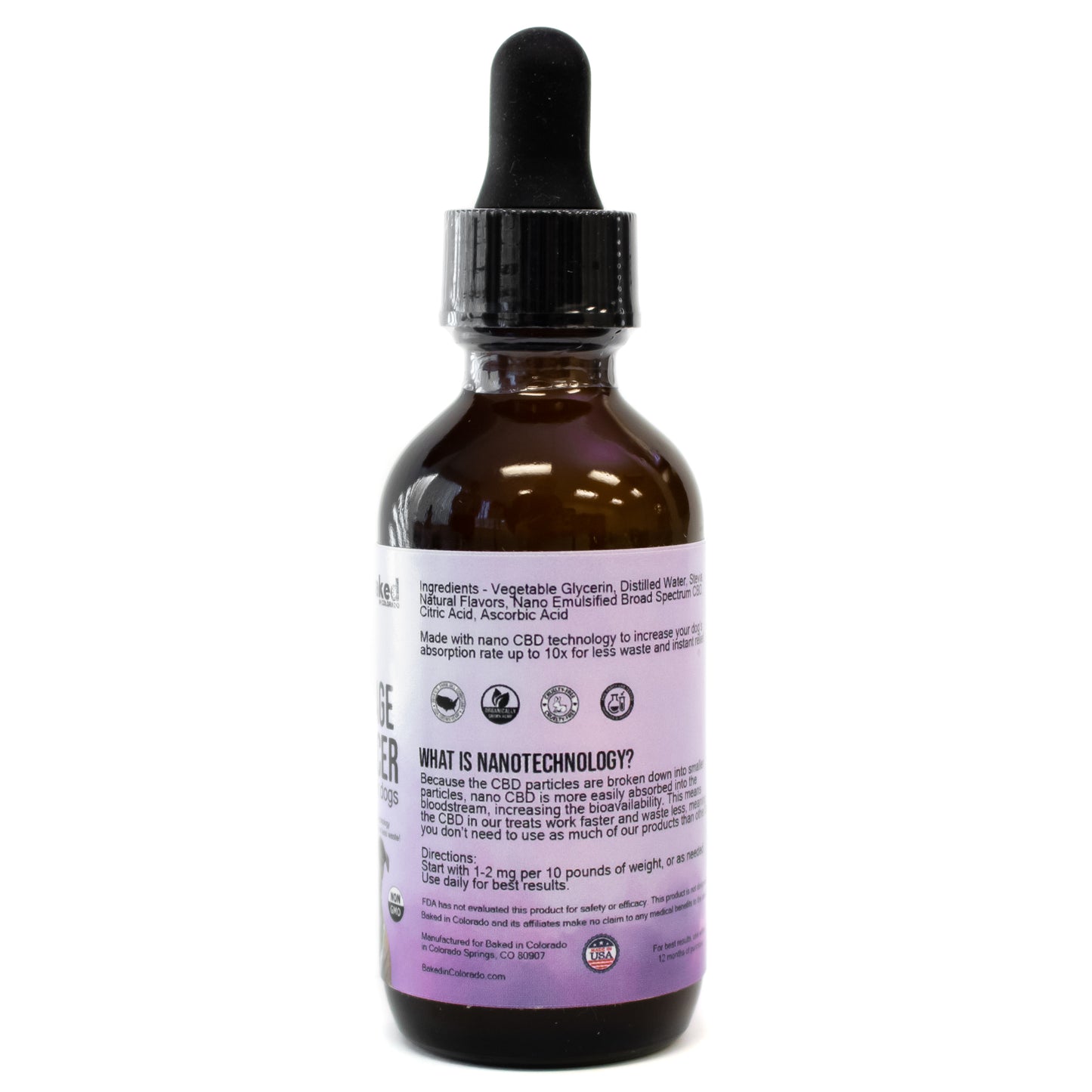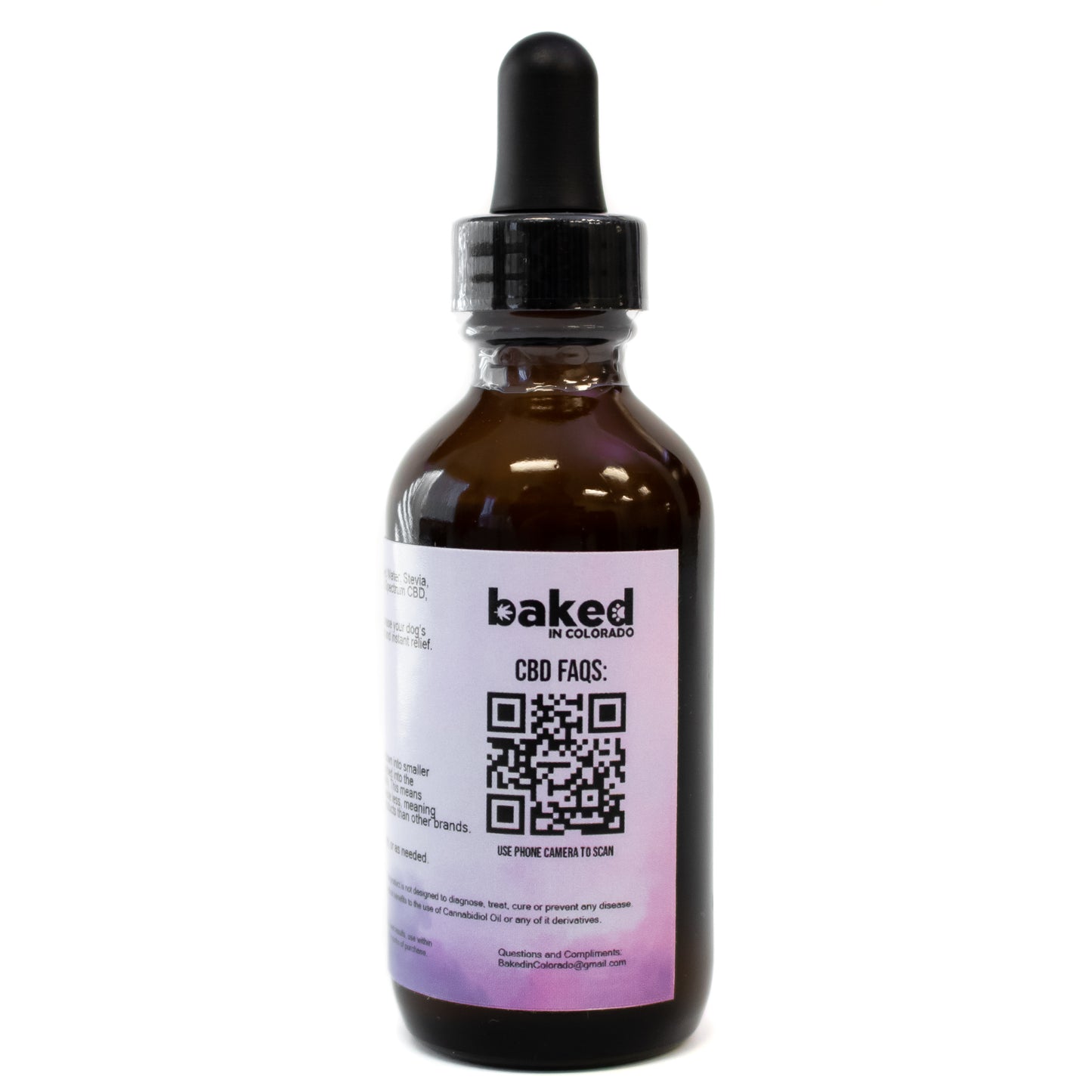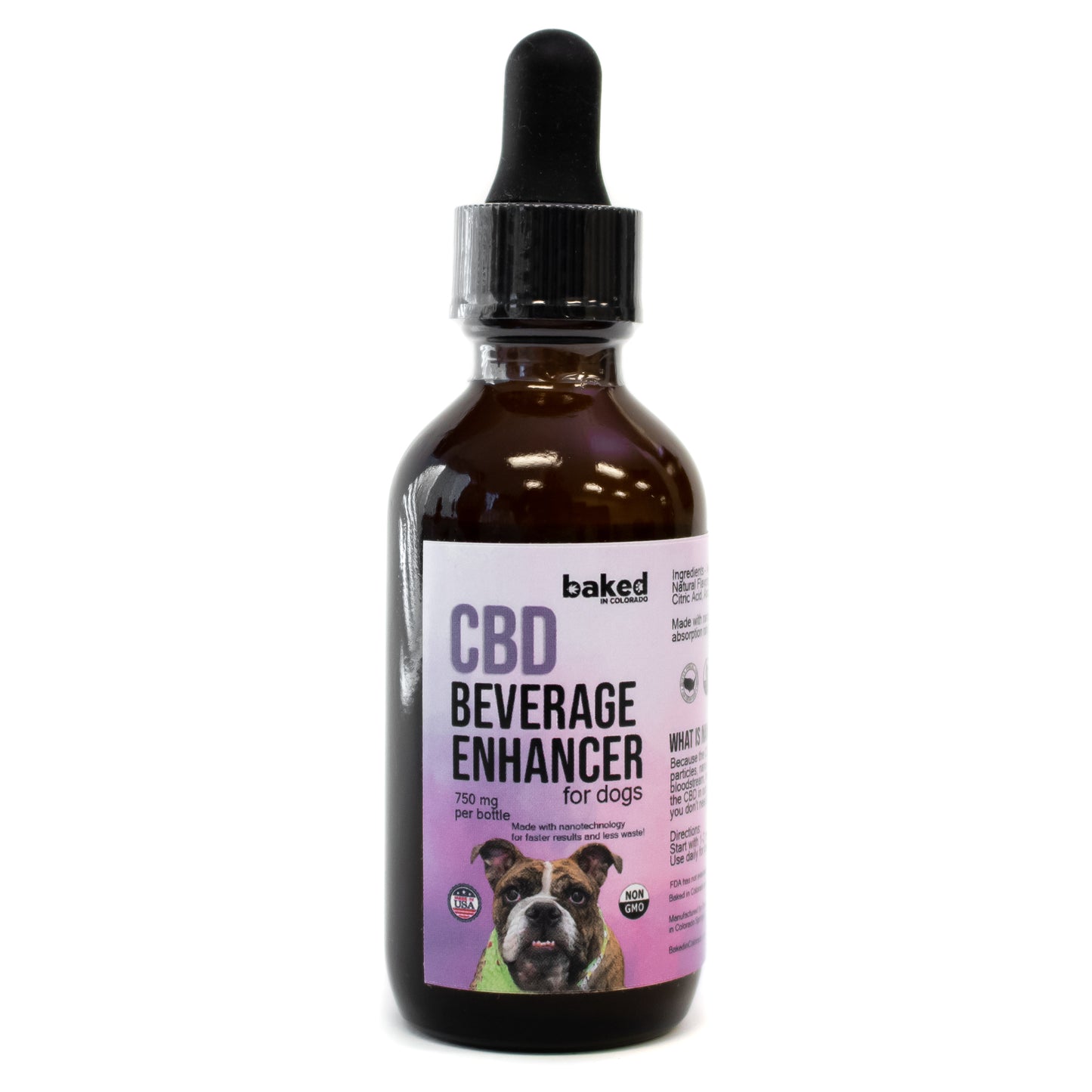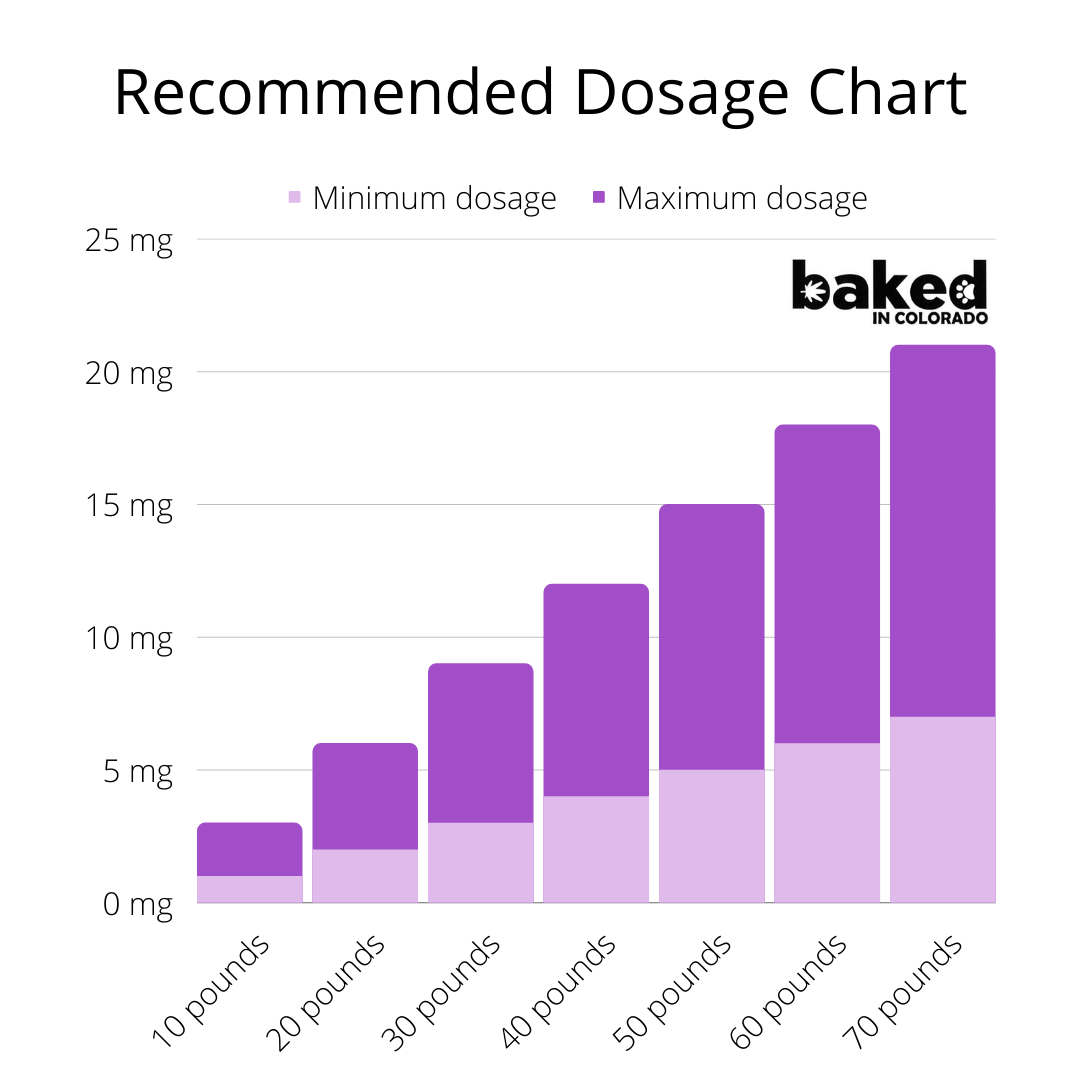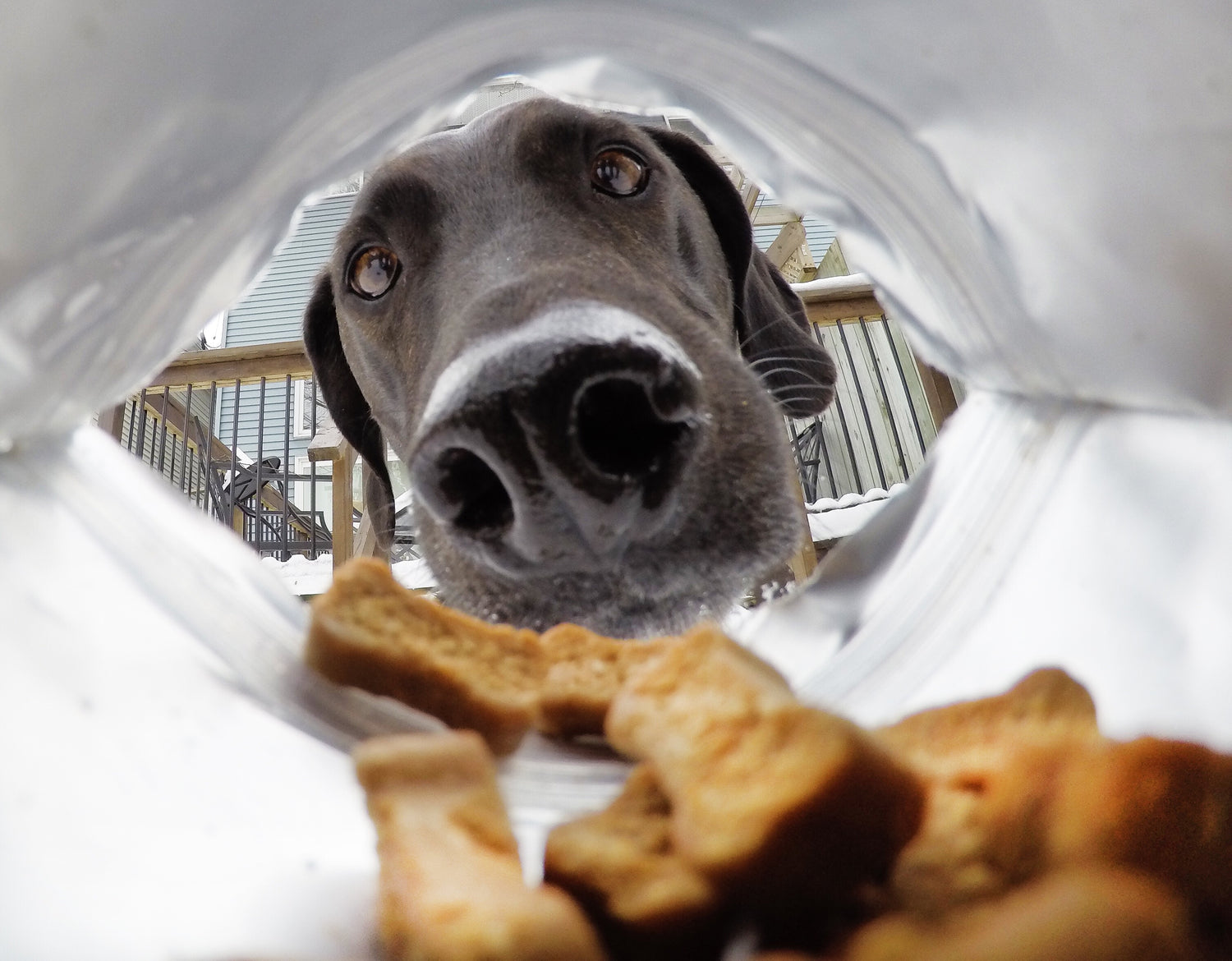 Anti-Inflammatory
CBD possesses potent anti-inflammatory properties, making it a promising natural remedy for conditions characterized by inflammation.
FAQ's
What is CBD, and where does it come from?

CBD, short for cannabidiol, is a natural compound found in the cannabis plant. It is one of over 100 cannabinoids, non-psychoactive substances, extracted primarily from hemp plants.
Will CBD get you high like marijuana?

No, CBD does not produce the "high" associated with marijuana use. THC (tetrahydrocannabinol) is the psychoactive compound responsible for the high, whereas CBD is non-psychoactive. CBD products contain only trace amounts of THC (0.3% or less), which is not enough to induce intoxication.
What are the potential health benefits of CBD?

CBD has shown promise in various areas, including pain relief, anxiety and stress management, anti-inflammatory effects, and potential support for conditions like epilepsy and insomnia. However, individual responses may vary, and more research is needed to fully understand its benefits.
Is CBD legal, and can I purchase it without a prescription?

In many countries, including the United States, CBD derived from industrial hemp with less than 0.3% THC is legal for purchase without a prescription. However, laws vary, so it's essential to check your local regulations before buying CBD products. Always ensure you purchase from reputable sources to guarantee product quality and compliance with local laws.